S2K Commerce - Products Dropdown
Actions

Company Info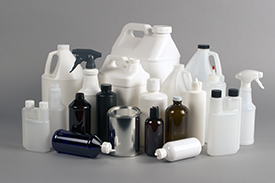 Industrial Container and Supply Company, Utah's leading distributor of containers, jars, drums and more, began as many successful small businesses, in a basement. In 1962, Reid Johnson founded the company as a sole proprietor, the most common type of small business in America at that time. 60 years ago, Johnson's go-to product was the industrial gallon bottle, which was well received in the chemical industry. The Johnsons used the family station wagon as a delivery vehicle, and it didn't take long before the founder experienced so much growth that expansion was in order.
In April 1966, Joseph Goodman joined the business as a partner, and on July 5th, 1966 they incorporated in Utah. This was the beginning of a business that would serve Utah customers and consumers around the United States for decades to come.
From the Basement Up
Ask any entrepreneur, and it's clear that basements and garages only work as headquarters for so long. Over time, Industrial Container and Supply Company grew and began calling a number of warehouses home. Today, the warehouse boasts an astonishing 240,000 square feet of space. Inventory includes bottles, glass containers, cans, drums, closures, pumps and sprayers. Inventory in stock is available for same day shipping. From industrial gallons to decorated bottles and jars, a lot has changed since the 60s, but the heart of the business has remained the same.
The inventory has expanded to meet the demands and desires of today's customers. The station wagon has been replaced by a fleet of delivery vehicles including 2 box trucks, 6 tractors and 16 trailer units. Every day, the Industrial Container and Supply Company fleet can be seen making deliveries from as far north as Logan, south to Salem and all over the Wasatch Front. However, weekends remain well-deserved days off, which is a hallmark of this great family business.
The Real "Stocking" Stuffer
Industrial Container and Supply Company is a stocking distributor and supports the major suppliers by offering more than 3,500 unique items. Specializing in plastic, glass and steel containers in a variety of sizes and shapes, everything an industry will need to keep items collected, organized, stored, packaged and consumer-ready can be found here. Mix in the numerous pumps, lids, decorating and other accessories, and Industrial Container and Supply Company offers comprehensive solutions for any packaging need.
Today, Industrial Container and Supply Company has customers in 50 states and still doesn't require a minimum quantity order. The majority of orders are shipped same-day. Payment options are easy and fast by accepting major credit cards and terms for repeat customers.
Whether you're in the personal care, construction, chemical, food or any other industry, give the family owned Industrial Container and Supply Company a call today to personalize your order.
How We Are Different
At Industrial Container and Supply Company we are family owned and operated. As such, we value every customer, large or growing, and appreciate every order. We delight in seeing our customers grow with us.
Our warehoused supply of containers allows every customer visiting our showroom, website or calling into our organization an opportunity to purchase products without the worry of high minimums. We strive to keep our prices affordable whether you purchase in less than case quantities or in truckloads. We aim to provide packaging to everyone with a product to sell.
Our experienced sales team is available to answer questions and deliver packaging solutions to improve your business. We value your business and are dedicated to serving and growing with you and providing all your container and packaging needs.